Eligibility to Buy Private Property
A Foreigner can purchase: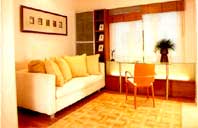 A flat in a building of 6 or more levels (including an HUDC Phase I or Phase II flat and a privatised Phase III or IV flat).
A leasehold estate in a property specified in the above item 1 for a term not exceeding 7 years including any further term which may be granted by way of an option for renewal.
An unit in an approved condominium development.
For restricted property such as vacant land, landed properties such as bungalows, semi-detached and terrace houses and flats in buildings of less than 6 levels, etc. foreigners need to apply for approval from Singapore Land Authority before buying. For more details on application, visit the SLA website.